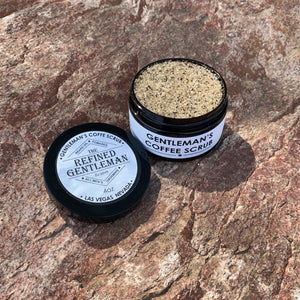 Exfoliate dead skin cells, improve blood circulation, smooth texture of your skin, reduce puffiness and inflammation with The Gentleman's Coffee Scrub. Handmade in small batches with All Natural Organic ingredients, we've carefully selected specific carrier oils to provide maximum benefits for your skin.  Smells so good you'll want to eat it!
4oz tub

Directions: Scoop out desired amount and apply to wet skin. Scrub in circularmotion, let skin absorb for a minute, then rinse off. Towel dry Use up to 3 times weekly.
Ingredients: USDA Organic Certified Sugars, Coconut oil, Coffee Grounds,Sunflower oil, Jojoba oil, Sweet Almond oil.  
Caution: Nut Allergen. Discontinue use immediately if skin irritation occurs.